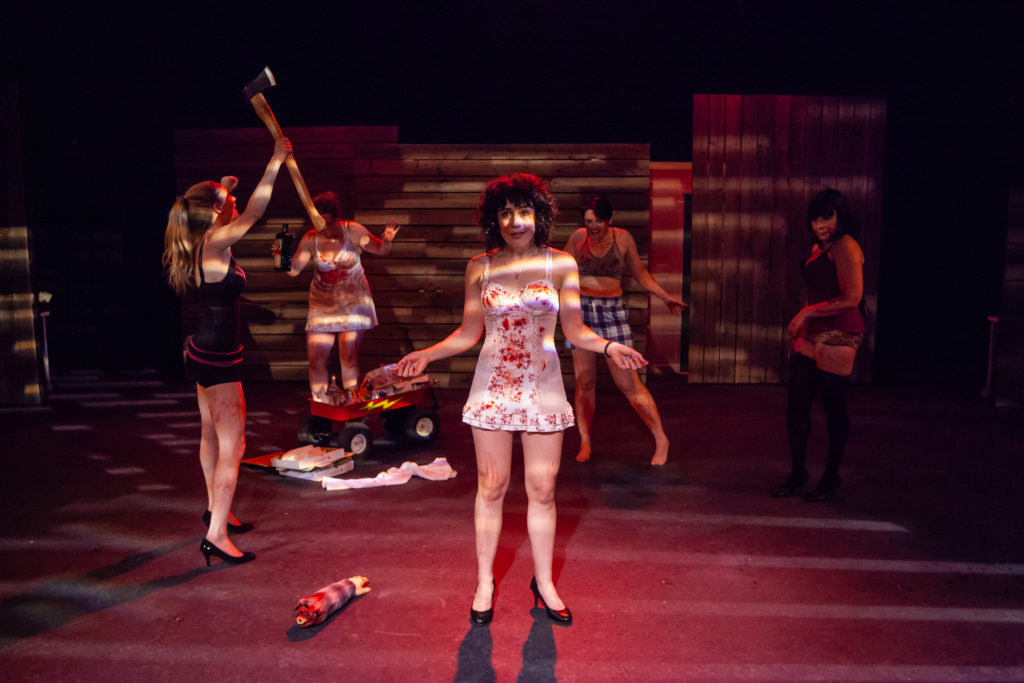 We are the secretaries and we do things secretarial
And once a month we kill a guy and cut him up for burial
It's a slasher play. It's a comedy. No, it's a black and bloody satire. It's over the top. And it's dangerous–particularly if one is a lumberjack in Big Bone, Oregon.
It's all of the above. It's The Secretaries by The Five Lesbian Brothers, aka Lisa Kron, Peg Healey, Dominique Dibble, Babs Davy, and Maureen Angelos, brought to you by Profile Theatre on the Artists Repertory Theatre Alder Stage.
As the play opens,  Patty Johnson (Claire Rigsby) arrives at her new job at Cooney Lumber. The other women in the secretarial pool include Dawn (Jamie M. Rea), the office lesbian; Ashley (Kelly Godell), the office brown-nose and a devotee of the SlimFast movement of the 1990s; and Peaches (Jen Rowe), the office fat girl, and target for the others. Their leader and enforcer, Susan (Andrea White), has her own office, the better to drag them in and enforce.
Patty soon learns that this is not your average office. There are certain–er–rituals observed by the secretaries, and some of them are a little weird. Many of them are a lot weird. The action is fast and furious as the one-liners. Patty forms a forbidden liaison with a "sensitive lumberjack", Buzz (Jamie M. Rea), thereby violating the celibacy rule. And then somehow, she is found out!
The Secretaries is set before Windows 95, so anything having to do with computers in the workplace is sadly out of date. However, it remains a very fresh and timely play. There is the arrogant, misogynist boss Mr. Kembunkscher, represented by an off-stage male voice. More revealing are the ways the women treat each other. Says playwright Lisa Kron in her author's notes, "The play examines the ways in which women are the enforcers of sexism. The rules that are enforced involve weight, food, sexuality." True to the satire model, these issues are taken to shocking heights to become the very essence of the purpose of good art. Everyone in the audience is uncomfortable.
This is not a play for sissies, but it certainly makes its points. And not without backlash. Says playwright Dominique Dibbell, "The Secretaries gave us our first walkouts. We empathized. Some of us almost walked out of the writing process, too. Confronting issues of body image and woman's cruelty to woman was no picnic…."
The play owes its excellent directing to Dawn Monique Williams, a resident artists at the Oregon Shakespeare Festival; costumes by Wanda Walden; scenic design by Meg Wilkerson.
The Secretaries runs Thursdays through Sundays through July 1. Not recommended for 17 and under.