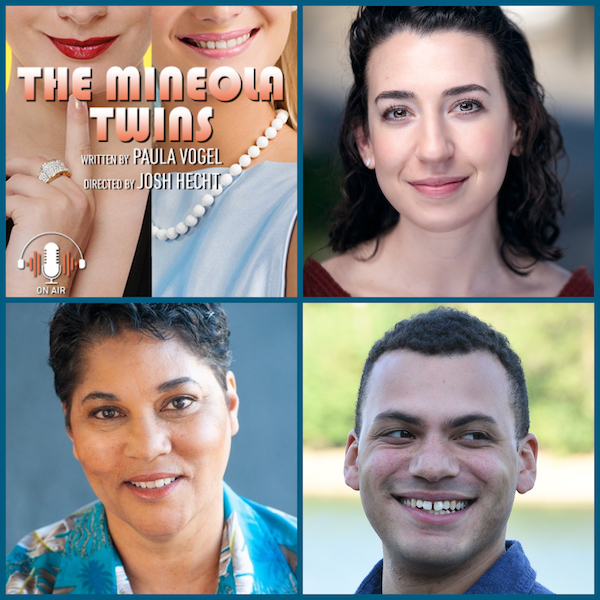 As with most situations in United States society of the 1950s, meritocracy influenced every aspect of life, especially when it came to females. One was either a good girl and deserving of the best or a bad girl spurned by society. So most followed the rules. "Good" girls married young and had babies, or went to college to earn their Mrs. degrees and then have the babies; "Bad" girls were whisked off somewhere to deliver their unplanned children only to have them snatched away and adopted.
These were cruel times for women. Pulitzer-prize-winning playwright Paula Vogel examines gender norms from the 1950s through the 1990s in her play The Mineola Twins, a campy, crazy, wildly satirical play that is available for video streaming via Profile Theatre.
Myrna (Miriam Schwartz) is the virginal, conservative "good" twin; Myra (Miriam Schwartz) is the lustful, boyfriend stealing "bad" twin. And from the boyfriend-stealing event onward, audiences bear witness to the twins' decades-long battle for supremacy. It's not pretty, but it's often laugh-out-loud funny! And while society changes a lot, the twins don't. They only get more entrenched. And ridiculous. Jennifer Lanier plays the love interests of both twins: the ill-fated Jim, and Myra's lesbian partner Sarah. Blake Stone plays the sons of both twins: Myrna's counter-cultural flower-child Kenny, and Myra's Young Republican Ben.
"Paula Vogel tells us 'there are two ways to do this play: 1. With good wigs. 2. With bad wigs. I prefer the second way," says Profile Artistic Director Josh Hecht, who directs The Mineola Twins. "She does this because she has a long-standing love of camp, but also because she is interested in misbehaving bodies. All of us live in bodies that fail in some way to live up to gender norms. The bad wigs in this production help us perform gender and perform American suburbia, and expose the space between those ideals and, well, all of us. As only Paula can do, she takes important and topical socio-political issues like reproductive rights and
sexual regulation and finds a way to be funny and irreverent and even a little naughty with them."
Lighting, video and OBS design are by Jeanette Yew; sound design and original music composition by Matt Wiens; costume design by Sarah Gahagan; co-costume design by Amanda Cobb;  associate video and OBS design, Alan Cline; line producer, Jamie M. Rea; stage manager, Jamie Lynne Simons; and production associate, Iain Chester.
It is a naughty play, which makes it all the more fun for those of us in need of something deeply thoughtful as well as comedic. Video streaming is available on-demand through March 21, with tickets available on a sliding scale; Profile members may access the play at no additional cost. Tickets are available here.