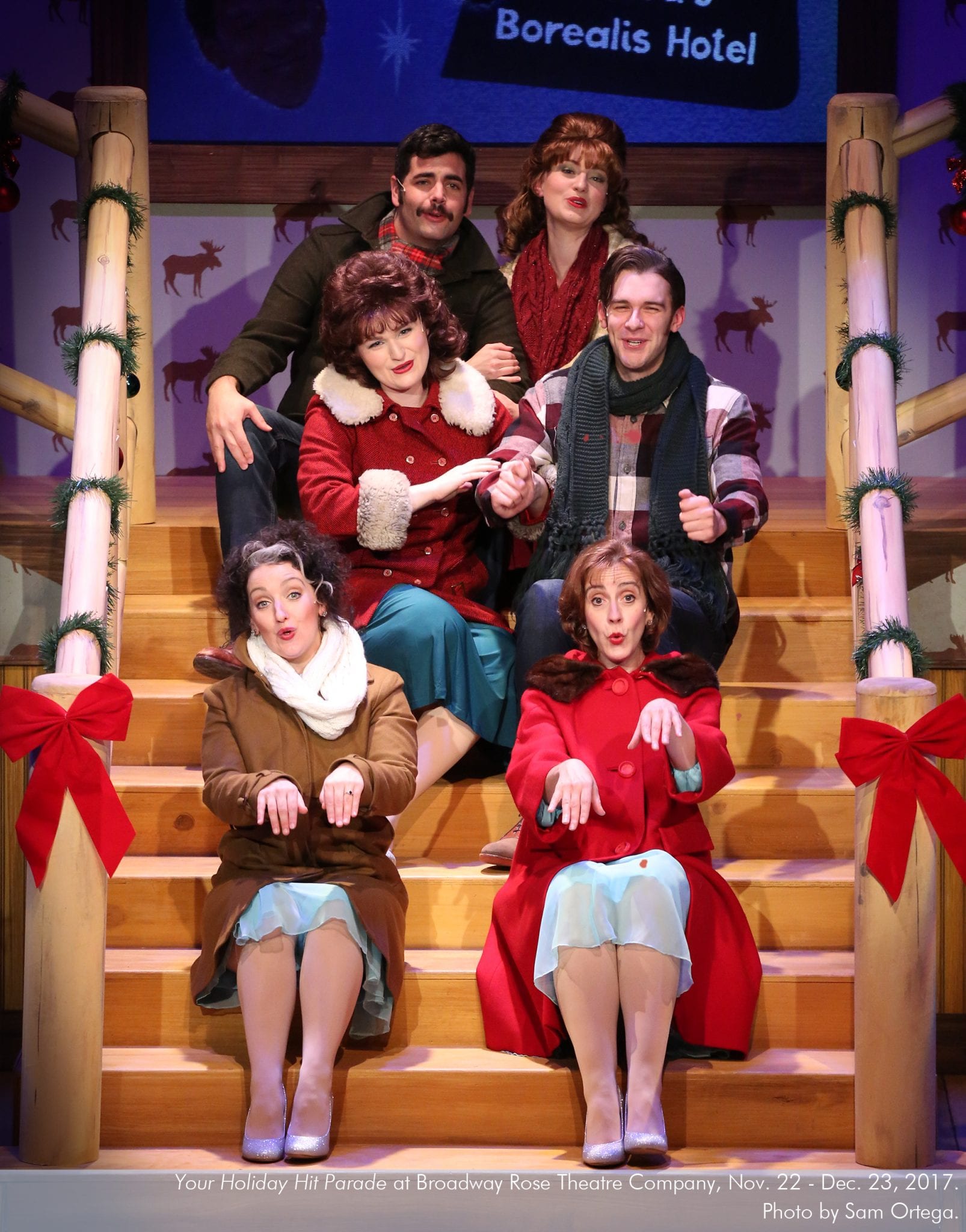 The music's the thing in Your Holiday Hit Parade, Broadway Rose Theatre's holiday show that opened Friday November 24  at its New Theatre, 12850 SW Grant Avenue, Tigard.
When two teachers from the Midwest become stranded on an isolated, snowy road, they stumble upon the old Aurora's Borealis Hotel, where they decide to get out of the weather while they wait for AAA. It's dark and cold in there, but worse outside. As they take stock of their situation, odd things begin to happen. Could the place be…? No. But what was that noise?
Written by Broadway Rose's founding managing director Dan Murphy and Rick Lewis, Portland Center Stage's Resident Music Director, the show is a revue of popular holiday songs from the 1940s, '50s and '60s. As in opera, the plotting is pretty thin, but serves as a vehicle for delving into the ghosts of Christmases past.
Six fabulous voices take to the stage, including Debbie Hunter and Laura McCulloch as the stranded teachers Helen and Bea, and Grace Allen, Robert Head, Ryan Reilly, and Malia Tippets as the ghosts. Dan Murphy directed and choreographed the show, and Jeffrey Childs is musical director.
For me, the show was reminiscent of Lawrence Welk, and of the LDS road shows I attended in my teens, with great singing and light-hearted fun. Your Holiday Hit Parade runs through December 23, and concludes Broadway Rose's 26th season.
On opening night, Broadway Rose announced its 2018 show, which begins in January with Murder for Two. Back by popular demand in April will be Always…Patsy Cline. Summer shows scheduled on the big stage at Tigard High School's Deb Fennell Auditorium will be Mamma Mia! and Guys and Dolls.