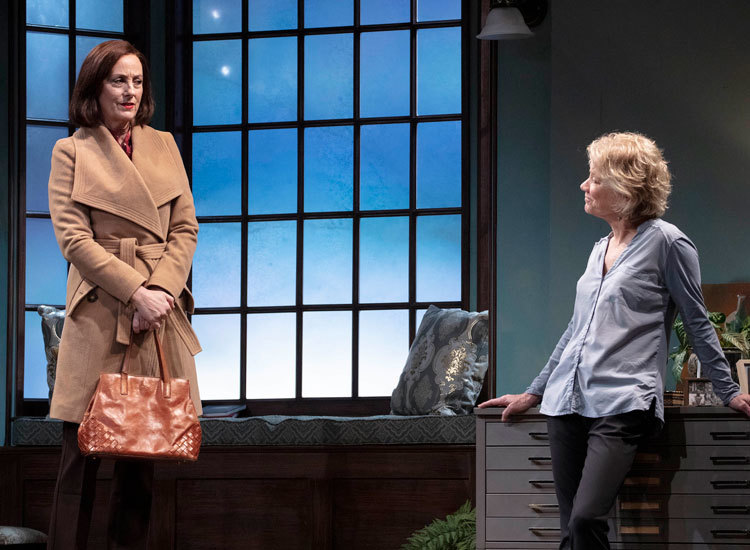 What does the American Civil Rights Movement of the 1960s have two do with two women on the Isle of Wight forty years later? Quite a bit, actually. When Frances Beale (Julia Brothers) comes knocking on Madeleine Palmer's (Gretchen Corbett) door in the early 2000s, we quickly learn that a certain night in Birmingham, Alabama in 1963 has much to do with the rest of the story.
In David Hare's 2002 play The Breath of Life, now onstage at Portland Center Stage's Ellyn Bye Studio, two women meet for the first time over their shared experience with the same man–Martin. Frances was his dutiful wife until he left her. Madeleine was his lover. Frances wants to talk about it, and boy can she talk. Madeleine, not so much. In fact, although polite, she is put off by Frances's need for "what the Americans call closure".
And then Frances misses her ferry, and the two are stuck overnight together. In the wee, dark hours we start to learn something of Madeleine's side of the story–and why Birmingham was so pivotal.
As the women's dead-of-night soul searching continues, the audience learns that it's not so much about Martin as about what has held both women back during their lives. While they certainly accomplished many things, there are personal choices, mistakes, regrets, at times deep sadness, and more important, deep personal strength. Of Martin we know little that shows us anything significant–until that big little reveal at the play's end. And by then, there are other, more pressing worries.
Two excellent actors bare their souls on the stage as this story unfolds. Frances has perhaps two-thirds of the lines, and on opening weekend this was a bit of an issue. The week before, Sharonlee McLean, who was cast as Frances, had to leave the production. This gave Julia Brothers one week to rehearse and step into a very large role. Even while reading her lines during the second act those first nights, she carries on with dignity, grace, and the soul of a trouper.
As a result, one is  reminded of the tremendous accomplishments of actors, directors, and theatre crews, and what they do in their jobs to bring us wonderful shows night after night. Hats off to Gretchen Corbett, Julia Brothers, director Ken Rus Schmoll, and the incredible crew of The Breath of Life. (And to hell with the gutless Martin!)
The play runs through June 16.
Top photo: Julia Brothers and Gretchen Corbett in The Breath of Life. Photo by Kate Szrom.